Over-the-top is the bottom line
Susan Felt
The Arizona Republic
Mar. 11, 2006 12:00 AM

It takes a secure sense of style to pull off hanging a gold-framed velvet oil painting in your dining-room alcove.

And even more chutzpah to cover a fridge in red fabric roses.

But for Louise Jay, the more over-the-top the better.
advertisement

A makeup artist, fashion designer and creator of LuLuBelles, vintage fabric handbags, T-shirts and accessories, Jay wanted her first home - a 1944 ranch house on the edge of Mesa's Evergreen Historic District - to reflect her roots and personality.
Thus, the collection of teacups - she was born in England - and the surprisingly tasteful plastic Princess Diana doll accessorizing her gilded bedroom chest of drawers. And, of course, there's the vivid Mexican color palette - teal, red, gold and what she calls "acid yellow" - that pays homage to the Southwest, where she has lived most of her 42 years.
Jay also has a collection of iconic religious art, tapestries and anything else that strikes her fancy when she's prowling yard sales and thrift stores, her favorite places for outfitting her home and her closet.
Her home is testimony to what you can accomplish with a small budget, a keen eye for design, and imagination.
"I wanted something that looked comfortable and fun," she says. With lots of personality.
She started with the floors. Jay ripped up carpet and painted the concrete floors gold, embellished with sparkling confetti she tossed on, and then covered with coats of protective, and washable, polyurethane.
She was similarly bold with the kitchen cupboards.
Because she couldn't afford to replace the particleboard cabinets, she painted them a rich, fiery red and covered them with oil paintings she found at thrift stores.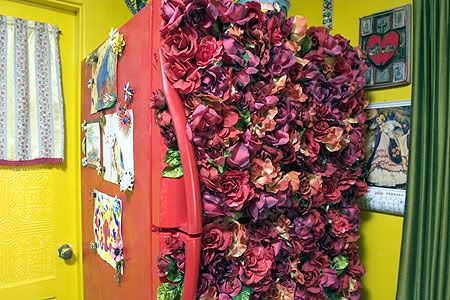 The same fiery-red paint covers the refrigerator. She softened its hard edges with the mass of fabric roses.
Her $200 dining-room table represents the most she has paid for any item in her home, she says. Even the round king-size bed with the padded avocado-green velvet headboard she spied in a thrift store was less than $200.
"I don't limit myself," Jay says. The more outrageous the better.
"I'm not a minimalist at all," she says. "If it's over the top, I'm all over it."